Vendor Managed Inventory
Vendor Managed Inventory (VMI) has been used widely in Industries to achieve optimization of costs and availability of parts for distribution, assembly line for SCM optimization. Profit from efficient ordering, reduced inventory, logistics and better demand planning along with replenishment.
VMI helps in many ways:-
In risk sharing of investment (Supplier and Customer)
Reaching new markets, time to market & distribution
Improved top and bottom line
Strategic growth, lowered costs and delivery cycle time with use of resources and facilities
Integrated communication with centralized enterprise software (ERP)
VMI projects have improved inventory turnover and sales by about 20% to 30% annually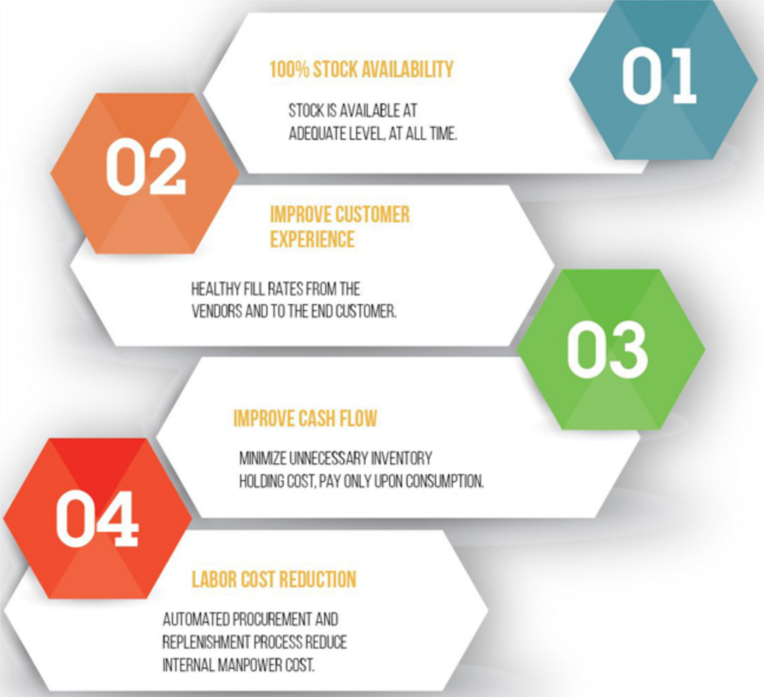 Introduction
Vendor Managed Inventory (VMI) is inventory management process where inventory of spare parts is maintained by the vendor instead of the end user. Quantity of spares as required by the client is maintained separately for a period specified by the client. The items are supplied from this reserved stock at previously contracted price. Stocks are replenished at predefined reorder levels.
VMI helps in reducing the procurement delays since the items are always available with the vendor and procurement lead time is negligible. Another advantage of VMI is that it reduces the cost of inventory for the client. Normally VMI facility is offered to regular and good clients.
How it works…
1. VMI Service Provider Contract –
The process is initiated with a contract. The contract is similar to a rate contract which specifies that clients will purchase predefined quantities of materials / items over a given period and the vendors would supply the material at an agreed price.
The VMI contract, in addition, specifies how much quantities of each contracted items have to be kept in reserve for the clients i.e. quantity defined should be available for each client at any given time. In some cases reorder level for the items are also specified.
Vendors on their part create a separate sub-store for each VMI customer and transfer the specified quantities for each contracted item to this store. The quantities available in VMI store are never utilized for any other client or for adding to the general store. The stock in VMI store is not considered while calculating available stock of particular item.
The VMI customer on their part ensure that VMI stocks are utilized within specified period to avoid penalty for unutilized stocks.
2. VMI Issue & Delivery –
Material is issued from VMI stock only on delivery request from the VMI client. PO for the specific material is also considered as delivery request. Client can submit PO or delivery requests through normal channels. In case client is provided secure access to the vendor portal (VMI module) then the client can log in and see the stock available and place delivery request online and initiate material issue and dispatch process without intervention of the vendor.
3. VMI Fulfillment –
On receipt of PO / delivery request the material is issued and dispatched from the VMI stock. This reduces the VMI stock, Invoice is generated for the issued VMI material at the rate specified in the VMI Contract. In case client does not request for the material over given period then penalty invoice is raised as per the penalty clause in the VMI contract.
4. VMI Replenishment –
Vendor is alerted if the stock falls below pre-defined minimum VMI quantity then the VMI stock is immediately replenished from the general stock. In case quantity falls below reorder level then the material has to be reordered from the suppliers.
5. VMI Dashboard & Reporting –
VMI stock is shown separately in general Inventory & movement reports to enable monitoring of quantity and movement of material. This helps in timely replenishment of stocks and if there is no movement then raising of penalty invoice. Detailed reporting and dashboards help gain access to current status and plan.