Sales configurators for Hydraulic Hoses
Hydraulic hoses are used in various industries and have a diverse range of uses. They come in a range of sizes, and are made from a variety of materials, depending on the application involved.
There is no "one size fits all" type of hose that will suit an application. The right hose keeps your process performing safely and cost effectively. The wrong hose could undermine your operations, put personnel at risk and compromise your bottom-line.
Because of the industry push toward more compact applications that can handle high pressures, selecting the right product is more important than ever.
Challenges
Hydraulic Hose face various challenges during their use:
•Breakdown due to exposure to sunlight
•Abrasion caused by hose chafing against a component of machinery or scraping against objects in the environment
•Tighter Bend Radius due to smaller & more compact hydraulic machinery
•Leakages at couplings
•Corrosion of couplings exposed to harsh, corrosive materials
•Adaptors for terminations
•Extreme temperatures
Sizing & Selection
There are several factors to be considered while sizing & configuring a hose.
Sizing:
Properly sizing the hose is critical. The inside diameter of a hose must be large enough to minimize the pressure losses. This lowers the heat generated by the losses and reduces the turbulence. Hose manufacturers recommend using a Fluid Velocity nomogram for the proper hose ID selection. This nomogram normally is available in hose catalogues and is based on the following equation:
pi d2 ÷ 4 = (Q x 0.321)/V
Where:
d = hose or tube inner diameter, in.
Q = fluid flow rate, gpm
V = fluid velocity, f/s.
Selection:
Proper hose selection requires paying attention to the variables in the application like temperature, pressure and flow requirements, as well as requirements ranging from chemical compatibility to drainability. Proper selection also requires hose longevity, maintenance and replacement costs, and other cost-of-ownership factors to be considered.
selection criteria:
•Size (Hose size or Dash number): The important sizes for a hose are inside diameter (ID), outside diameter (OD), and length.
•Temperature: The hose selected must be capable of withstanding the minimum and maximum temperatures within the system.
•Application: Many hydraulic hose applications involve bending, and thus hoses are rated for minimum radius bend.
•Material to be conveyed: Hose selection must assure compatibility of the hose tube, cover, couplings and O-rings with the fluid used.
•Pressure: Knowing system pressure is critical, including pressure spikes.
•End couplings
Overview of application functionality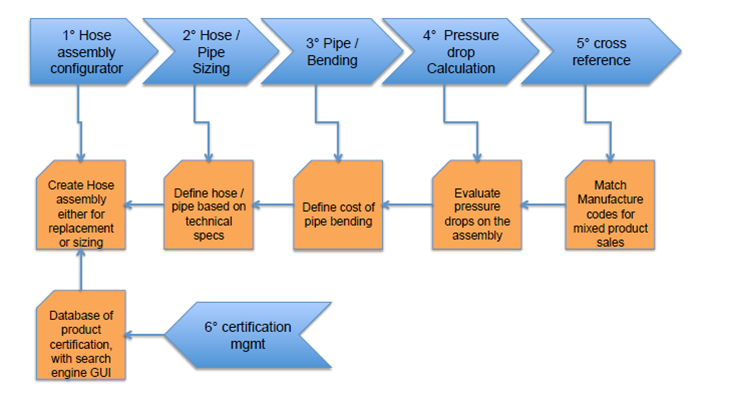 Hose configurator
•Filters model by providing working pressure, temperature, Hose Size, Application, etc.
•Validates fluid compatibility with the Hose, e.g. Good, Fair, Excellent, Not Suitable
•Calculates pipe diameter based on Flow Rate and Velocity input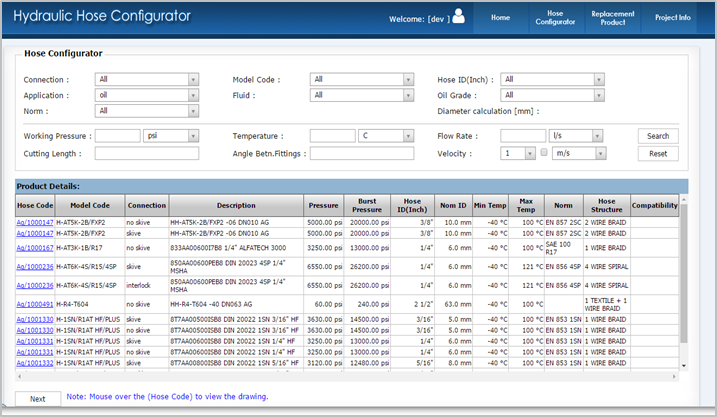 Selection of Hose Fittings
•Application shows list of fittings suitable for the selected hose
•Filter the required Fittings by providing search criteria – group, connection, termination & O-ring.
•Ferrule details can be viewed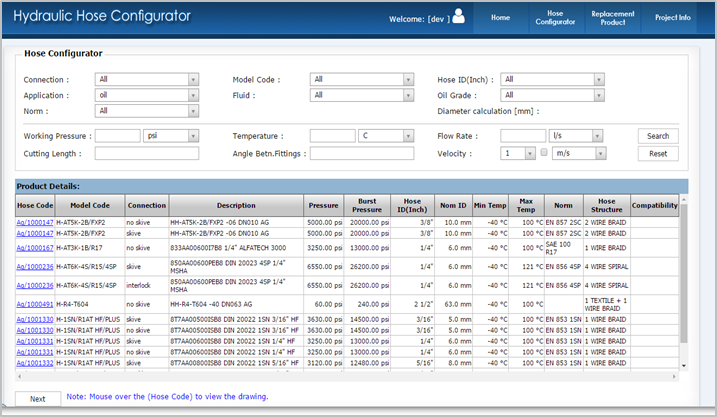 Pressure Drop calculation
Calculate pressure drop in the Hose by providing input for - Oil Grade, Density of Material Grade, Velocity, Temperature, Hose Length & Fitting Angle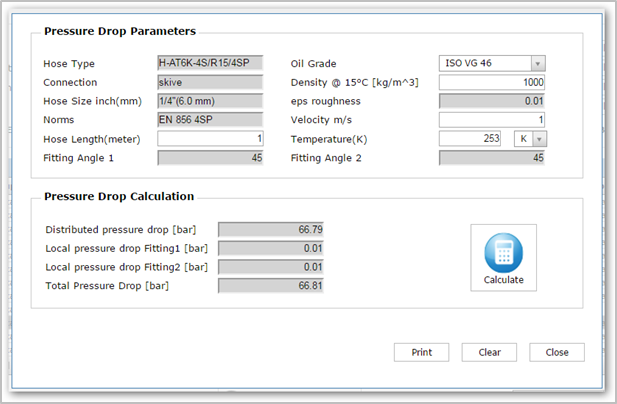 Selection of Replacement Product
If the Model Code & Hose ID (Size) of the required hose are known, the application filters the hose based on those parameters.